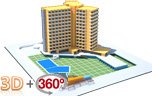 HOTEL RIO PARK

H **
Murcia, 16
03503

Benidorm

(

Alicante

)
Tel. +34 965 855 612
Fax +34 965 855 201

OFFICIAL WEBSITE
The Hotel Rio Park is located in the centre of Benidorm, a tourist resort city where the main attraction is fun for all ages and walks of life. The Hotel Rio Park is centrally located in town and only a few minutes from the sunny beach.

The hotel has 408 double rooms, 9 family rooms and 48 single rooms. One of this hotel's main assets is the personal and friendly staff and service that are popular amongst our guests who return year after year. You will be guaranteed an action-packed holiday that you will never forget.

The clean, golden sand beaches of Benidorm, the warm climate, the horizon and the wide city avenues all create a fantastic destination for your action-packed or relaxing vacation, whether you are looking for an active nightlife or relaxing days at the beach.
Accommodation
Single Room
The Hotel Rio Park has 48 single rooms all with full bathroom, air conditioning, heating, cable and satellite television, and optional safe deposit box.