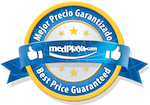 Best Price Guarantee
We aim to offer the very best prices when you book our hotels online via our Website Medplaya.com.
Should you find an online price lower than the price offered on our website, upon confirmation of this information, we will match the prices and apply an additional 5% discount.
In the unlikely case that a violation of this policy is observed after making your reservation with us, please fill out a complaint form and send it to us within 24 hours of booking stating where and when you have found the better price. On confirming that the lower price is valid and that the hotel, room, number of guests, board type, reservation dates and booking conditions are the same, we will immediately confirm your reservation at the lower price.
In the case of non-refundable and long stay bookings, it is not possible to apply the Best Price Guarantee once the reservation is made, as the conditions of this type of booking do not allow any refund or amendment to the amount paid at the time of making the booking.
Please contact us before making the booking if you wish to apply the Best Price Guarantee to non refundable or long stay bookings.
*Best Price Guarantee cannot be applied to Tour Operator Prices
Best Price Guarantee Conditions.
The following conditions apply when invoking the Best Price Guarantee via our contact form:
1. After making a confirmed booking on our Website you find a lower price within the next 24 hours.
2. The booking details are identical: Hotel, reservation dates, room type, occupancy, board basis and the conditions the same as the lower price you have found.
3. Complete the complaint form detailing where and when you have found the lower price or send a screenshot of the details to callcentre@medplaya.com.
Upon verification of all the details, MedPlaya will accept the lower price, and will send a revised confirmation with the updated price by email. In case of any subsequent modification of the reservation after acceptance of the best price, the best price guarantee will no longer be relevant.
*Best Price Guarantee cannot be applied to Tour Operator Prices