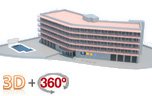 HOTEL MONTERREY

H ***
Pasaje Bolivar, 3
17250

Platja d'Aro

(

Girona

)
Tel. +34 972 819 613
Fax +34 972 826 446

OFFICIAL WEBSITE
The Hotel Monterrey is located in a quiet residential area of Platja d'Aro, offering a laid-back atmosphere and friendly service.
The dining room offers a buffet-style service with typical dishes of national and continental cuisine. The Hotel Monterrey is located just 75 meters away from the Platja d'Aro beach, one of the the most popular destinations of the Costa Brava. All Inclusive Hotel in Costa Brava
All of the rooms feature private exterior balconies.

In Platja d'Aro, located in the heart of the Costa Brava, you will find many options for fun and leisure activities, as well as the opportunity to practice sports such as golf or sailing. You will be able to enjoy restful days at its beaches, such as the Playa Grande (Big Beach), with coarse sand and deep waters, or you can take a dip in one of the many quiet charming coves that you can reach by following the Camino de Ronda (Coastal Path), where you can discover all the amazing views it has to offer.
Accommodation
Double Med Room
All rooms have individual air-conditioning units telephone, satellite TV, full bathroom, private exterior balcony, optional safety deposit box and the possibility of including a cot.
Family Room
All of them have 2 single beds and 2 roll-away cots for children between ages 2-12 years. All rooms have a full bathroom, balcony, air-conditioning and heating, satellite TV, telephone, and an optional safety deposit box.
New Family Premium Room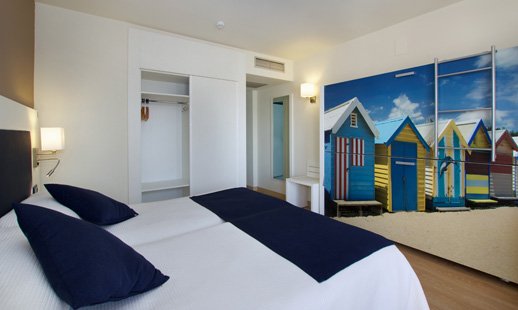 Our Monterrey Family Premium Rooms are decorated in a modern and welcoming style. The rooms have been furnished in a very practical manner which means they are perfectly suited for family use. There is also a flexible sleeping arrangement for those of you travelling with children as a family. There is a "hideaway" child's bunk bed in each Room which means a family of four can be very comfortable in our new style rooms.
The bathroom is modern, with a walk in shower. Even the lighting has been updated in our Family rooms to provide you with LED lights and a comfortable additional reading light by your bed. All Family rooms are larger than our standard rooms, and included in the price are the mini fridge and safety deposit box which are part of the Club room facilities. There is also a telephone and a 24 inch TV with a varied list of TV channels both national and international. Our Club rooms offer you more space if you are a couple, and comfortable and practical living if you are a family.