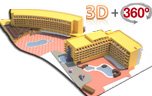 HOTEL CALYPSO

H ***
Pompeu Fabra, 54-62
43840

Salou

(

Tarragona

)
Tel. +34 977 384 900
Fax +34 977 383 513

OFFICIAL WEBSITE
The Hotel Calypso is located in the popular resort of Salou, just minutes away from the Playa Capellans, one of the most beautiful beaches on the Costa Dorada. Salou offers a variety of options to suit everyone.

Hotel Calypso is reknowned for its quality and the excellent service offered, as well as for its all-inclusive package. During the summer months our Activities Team organise many recreational events, entertainment and shows for your enjoyment.

The Port Aventura theme park and Aquapolis water park are just a short distance from the Hotel. The cities of Tarragona, a UNESCO world Heritage Site, and Reus, a modernist city and birthplace of the famous Antonio Gaudi are both easily reached by local transport. Reus airport is just 10km away. The hotel is very conveniently located for those golfers who want to make the most of the discounted rates on the Port Aventura Golf Course, designed by Greg Norman.

The hotel offers comfortable rooms spread over two buildings, with individual bathrooms, terrace, satellite television, air-conditioning (summer months), safe and telephone. The buffet restaurant offers mediterranean and international cuisine, and the Al Fresco Grill restaurant is available in July and August.

Hotel Calypso want to ensure you have Fun in the Sun, with two pools and a dedicated childrens play area, as well as our summer day and evening activities programme, shows and themed dinners we are confident that there is never a dull moment.

** Additional Information about Hotel Calypso
Also Known As: Hotel Calypso Salou, Calypso Hotel Salou, Calypso Salou, Calypso Hotel, Hotel Medplaya Calypso Salou, Hotel Calypso en Salou, Calypso Salou Hotel, Hotel Calipso
Hotel Class:3 star (3*)
Amenities: Bar/Lounge, Beach, Enterteinment, Children Activities, Restaurant, Room Service, Swimming Pool, Wheelchair access
Hotel Style:
On the Beach Hotels in Salou, Family Hotels in Salou, All inclusive Hotels in Salou, Enterteinment Hotels in Salou
On the Beach Salou Hotel, Family Salou hotel, All In Salou Hotel, Enterteinment Salou Hotel
Best Rate Guarantee: If you find a price that's lower than the lowest price offered at medplaya.com within 24 hours after making your reservation on the http://www.medplaya.com web page, upon confirmation of this information, Med Playa will discount the difference plus 5% when your stay at the hotel has finished. So, the users of medplaya.com can be sure that all the prices found here are the lowest available anywhere. Salou Hotel cheap.
Direct payment at the Salou hotel reception: The cost of this booking will NOT be charged to your credit card.
Discounts when making your reservation: Register and you will automatically receive by e-mail your provisional Amigo Card so that you can benefit from the Reward Programme right from the first moment.
Accommodation