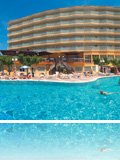 HOTEL CALYPSO
Official rating: H ***
Pompeu Fabra, 54-62 43840 Salou (Tarragona)
OFFICIAL WEBSITE The Hotel Calypso is located in the popular resort of Salou, just minutes away from the Playa Capellans, one of the most beautiful beaches on the Costa Dorada. Salou offers a variety of options to suit everyone.Hotel Calypso is reknowned for its quality and the excellent service offered, as well as for its all-inclusive package. During the summer months our Activities Team organise many recreational events, entertainment a...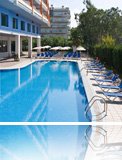 HOTEL PIRAMIDE SALOU
Official rating: H ****
c/ Viladomat, 9 43840 Salou (Tarragona)
OFFICIAL WEBSITE The MedPlaya Piramide Salou, built in 2002, was incorporated into the MedPlaya.com chain in April 2011. This modern, fully air conditioned, 4* hotel which gets its name from its central glass pyramid, offers superb facilities for families or couples of all ages. 230 spacious, comfortable rooms (50 of which are interconnecting for 4/6 people), 90 private parking spaces, 2 swimming pools (incl. dedicated children's poo...