Hotel Features
Hotel Features
• Situated in a Mediterranean forest.
• 2.5km from the beach.
• Buffet-style restaurant.
• Public internet.
• Tennis court.
• Miniclub for children.
• Supermarket.
• Minibus from the hotel to Tossa de Mar.
Parking
• Outdoor unsupervised car park
Shops
• Supermarket
Dining
• Restaurant with seating capacity for 160 people, with air conditioning and buffet-style service
• Terrace bar with capacity for 250 people
• All-Inclusive packages available
Accessibility
• Minibus from the hotel to Tossa de Mar every hour (timetable from
9:00 a.m. to 9:00 p.m., except at 2:00 p.m.). This service is free for those who have booked the All-Inclusive package.
Pet policy
• No pets allowed, except guide dogs.
Facilities
• Public telephone
• Postal service
• Internet
• Excursions
• Possibility of sports activities in Tossa: diving, water sports, hiking
• Supermarket
Gastronomy
We have a buffet-style dining room service, in which you will find a wide variety of regional, national and international dishes to choose from.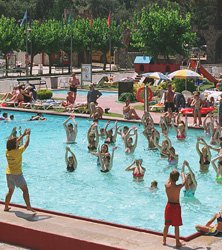 In-Room Features
• Living room and Kitchen
• Full Bathroom
• Cable/ Satellite TV
• Optional safe deposit box
• Telephone
• Balcony
• Refrigerator
• Check-in time: 4:00 p.m.
• Check-out time: 10:00 a.m.
Entertainment
• Three outdoor swimming pools.
• Large garden with lawn.
• Tennis court.
• Basketball volleyball and courts.
• Minigolf.
• Ping-pong.
• Boules.
• Children's playground.
• Miniclub for children between 6 and 12 years old.
• Wide selection of sports and leisure activities organized by the entertainment team.
• Shows and evening entertainment programmes.