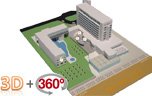 HOTEL PEZ ESPADA

H ****
Avda. Salvador Allende, 11
29620

Torremolinos

(

Málaga

)
Tel. +34 952 380 300
Fax +34 952 372 801

OFFICIAL WEBSITE
The Hotel Pez Espada is one of the most popular hotels of the Costa del Sol. It is a four-star hotel with the perfect combination of a relaxed atmosphere with personal and attentive service.

It has a privileged location right on the beach, next to the 'La Carihuela' area, which is famous for having the best seafood restaurants in Torremolinos and the entire area.

The hotel has standard rooms, Club rooms and suites, all of which are very well-appointed.Our Club rooms provide an extra level of comfort and services.
Our dedicated and attentive staff will provide you with an unforgettable service throughout your entire stay. Our restaurant offers a buffet-style service with a varied cuisine. You can also enjoy our snack bar "Frankie's Café", the large garden.
Número de Registro en turismo: H/MA-00059 (Hotel Pez Espada ****)
- Torremolinos offers a wide variety of different cultural and athletic activities. This city continues to be a point of reference for tourists from all over the world.

Solo en español: Ver en el programa de Canal Sur: De las "10 razones para visitar Torremolinos", la razón numero 9, explicada por el Director de zona de la Costa del Sol, Miguel Bordera

Bodas y banquetes

Ver salones y selección de menus


50 aniversario del Hotel Pez Espada
Pez Espada 50th anniversary (inaugurated on May 31, 1959)
Andalucia Unica Opinion de Malaga El Noticiero Digital; Europa Press; Diario Sur; Andalucia Información; Diario de Córdoba
Cumple 50 años un pionero de la Costa del Sol que alojó a realeza y artistas
El Pez Espada presentó el libro que conmemora su 50º Aniversario como buque insignia del turismo en la Costa del Sol (Benalmadena Digital)

E-book of Hotel Pez Espada
La historia de la Costa del Sol y del Hotel Pez Espada
Imágenes del programa
Crónicas de TVE
Ver video (only Spanish) 11min
Accommodation