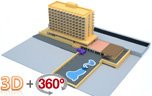 HOTEL REGENTE

H ***
Monaco, 5
03503

Benidorm

(

Alicante

)
Tel. +34 965 855 412
Fax +34 965 855 408

OFFICIAL WEBSITE
The Hotel Regente is located in the centre of Benidorm, just a few minutes from the Levante Beach. It has recently refurbished double rooms, all with full bathrooms, air conditioning, heating and balconies.
The restaurant is buffet-style and there is a wide variety of Mediterranean and continental dishes to choose from. There are two outdoor swimming pools. There are daily daytime and evening entertainment programs throughout the year. Enjoy your holidays filled with activities, sun and the beach.

The Costa Blanca is one of the most cosmopolitan areas of Europe and its unofficial capital, Benidorm, is one of the best symbols of the Spanish tourism industry.
Accommodation
Double/Twin MedPlaya Room With Balcony/Terrace
The Hotel Regente has recently refurbished double rooms complete with full bathroom, balcony,twin beds, air conditioning, heating, telephone, and optional safe deposit box.