'More value for your money, more fun for your family'

The All Inclusive, from Medplaya Hotels offers family fun whilst at the same time making your holiday money go further.

BREAKFAST INCLUDED
Buffet, Fruit Juice. Coffee and tea.
Approx. times: 8.00 to 10.30am (check individual hotel's timetable)

LUNCH INCLUDED
Buffet, with a selection of white, rosé and red wines.
Water, beer, and soft drinks.
Approx times: 12.30 to 15.00 pm (check individual hotel's timetable)

DINNER INCLUDED
Buffet, with a selection of white, rosé and red wines.
Water, beer, and soft drinks.
Approx times: 18.30 to 21.30 pm (check individual hotel's timetable)
SNACKS AND ICE CREAM INCLUDED
Hot and cold: hamburgers, hot-dogs, hot and cold sandwiches, French fries.
Tubs of Ice Cream - variety of flavours.
Cakes, biscuits, coffee, and Afternoon tea.
Approx times: 10.30 to 13.00, Afternoon tea: 14.30 to 18.30; 20.30 to 23.30 (check individual hotel's timetable)

DRINKS INCLUDED
Soft drinks for children.
Juices, beer, tea and coffee.
Drinks for adults as per the displayed list which form part of the All Inclusive. All are quality brands. For all other drinks not in the All Inclusive list there is a supplement charge of 50% of the public selling price for All Inclusive customers.
Approx times: 10.30 to 23.00 (check individual hotel's timetable)

ACTIVITIES INCLUDED
Sports: (check individual hotel's facilities)
Day and night activities in the pool area/garden/lounge with an evening show and music. (check individual hotel's Activity Programme)

All Inclusive Process
All In customers are identified with a bracelet or card (personal and non-transferable) which givems them access to all their amenities. All customers who are in the same reservation group must be ont he All In (all inclusive) option during the whole duration of their stay.

All products listed in the All Inclusive List in the bar, Snack-bar, diningroom and so on are quality brands. There will be a supplementary charge of 50% of the public selling price for all other drinks not included in this list. The customer will be served with a maximum of two drinks at any one time. It is not permitted to accumulate drinks or give them to other customers. Alcoholic beverages will not be served to under 18s. In the interest of Hygiene and Health and Safety it is not permitted to take food or drinks from the dining room or snack bar. The Management reserves the right to refuse to serve alcohol to those behaving inappropriately. All of the All Inclusive amenities are exclusive to the customer and sharing with customers on different board options is not permitted. In case of infringement of the All In benefits, non-acceptance or non-compliance with these rules, the Hotel reserves the right to withdraw all facilities. For your benefit and following the norms of health and hygiene, food or drinks cannot be taken out of the Dining Room or the Snack-bar.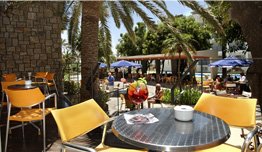 All inclusive hotels